Article about Juno in "Het Financieele Dagblad"
Clicking on the link below the image opens the interview Juno's Frans Jurgens and Rob Deneke recently gave to Dutch business newspaper "Het Financieele Dagblad" (in Dutch). This interview appeared on January 24, 2022.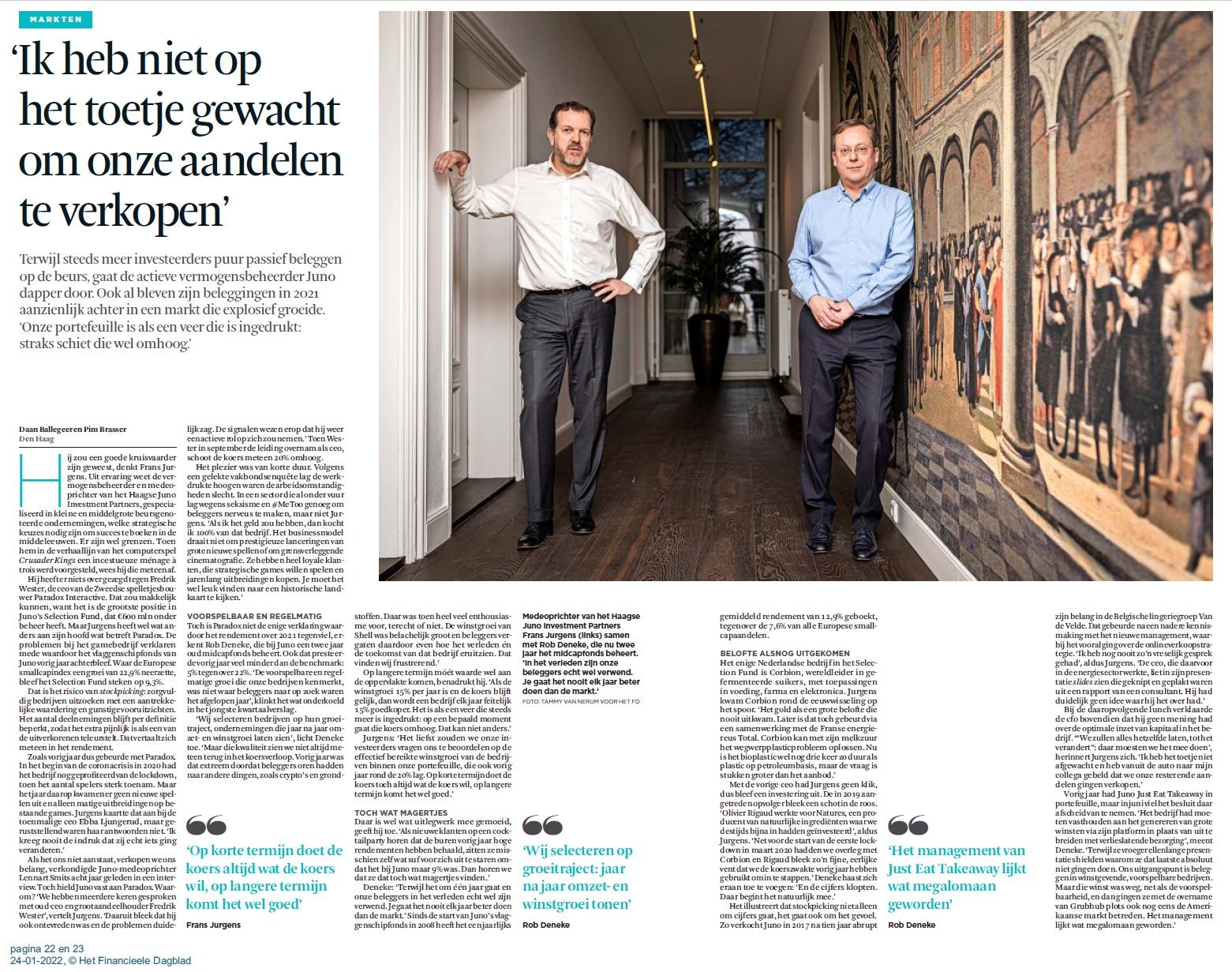 Clicking here opens the article in a new window (in Dutch)
About Juno Investment Partners
Juno Investment Partners was established in 2007 as a fully independent fund manager and has an AIFM license (as referred to in Section 2:65 of the Wft), issued by the Dutch regulator AFM. Juno specializes in the selection of exceptional listed (family owned) companies in Europe. Companies that are able to achieve predictable and stable earnings growth year after year are considered for investment. The selection process focuses on the return on invested capital, a low debt ratio and free cash flows of a highly predictable nature. The analysts/portfolio managers compile a highly concentrated portfolio of approximately fifteen companies that they identify, analyze and visit regularly. Selected companies remain in the portfolio for a longer time period (usually more than five years). All analysts/portfolio managers have themselves invested in the Juno funds.
Juno offers three products: The Juno Selection Fund, which focuses on the selection of smaller and medium-sized listed companies, the Juno Continuation Fund for medium-sized companies and individual asset management using the same investment style, for larger clients through managed segregated accounts.
– The Juno Selection Fund was launched in 2008. This mutual fund invests in distinctive European small and medium-sized companies with an initial market capitalization of €250 million to €4 billion. In recent years, this investment style has resulted in above average investment returns for participants in the Juno Selection Fund. This fund has been hard closed for further (follow on) subscriptions since 2018.
– The same investment strategy is applied in the Juno Continuation Fund, which was launched on February 1, 2020. This fund focuses on unique, medium-sized European companies with a market value between €4 billion and €20 billion at the time of initial purchase. As is the case with the Selection Fund, the Continuation Fund also has a strong preference for investments in businesses that are family owned, or companies in which a family or management itself is also a shareholder.